Brown butter snickerdoodles
(Read article summary)
Snickerdoodles are so much more than sugar cookies! This is a recipe you'll return to time and again. It's simple and straight-forward, with world-rocking, mind-blowing results.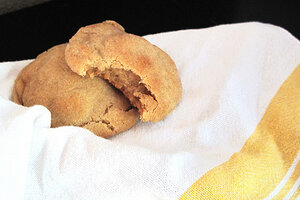 In Praise of Leftovers
I got a new cookie jar. Watch out.
My old one hasn't had a lid for years, and it was always too small. I've solved that with a beautiful old jar I found at Fairhaven Antique Mall (my new favorite place). It's inspiring when it's sitting there on the counter, all empty and big. My kids are happy about this development.
I made three batches of these last week. I stumbled across them on Pinterest, and the photo was enough to change my mind about homemade snickerdoodles. Whenever I've made them, I'm disappointed. They turn out like ho-hum sugar cookies and seem to go stale almost immediately. If that's your experience, prepare to have your mind blown. Or your world rocked. Or your universe expanded. (Wyatt and I like to play with these exclamations. He would say these cookies rock his world off. Or blow his socks up.)
They're made with brown sugar and melted butter. Whenever a recipe calls for melted butter (instead of beating butter with a mixer), I know that's a good sign. It means less air will be beaten into the batter, there will be less manipulation, and the cookies are likely to be more tender than normal. And more brown sugar usually makes cookies softer. You need to refrigerate these, so plan ahead.
Happy cookie jar-filling.
---