Cherry cupcakes with cherry frosting
(Read article summary)
Spring is almost here, and in some parts of the world it's cherry blossom season. These cupcakes can be made with fresh or frozen cherries. With a creamy, dense frosting they're divine.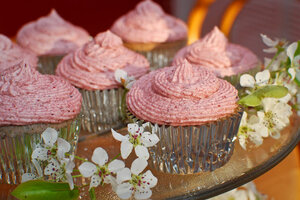 Eat. Run. Read
This week I'm phone-interviewing intern candidates, which always presents unique interactions ranging from interesting to straight-up shenanigans. Yesterday, for example, I interviewed the most nervous candidate I have ever encountered. When I asked why he wants this internship, I could feel the poor guy shaking through the phone! I am by no means a harsh or tricky interviewer, so when he apologized profusely for his anxiety, I tried to calm him down, Don't worry about it, it's really totally fine. Just take a deep breath and start over, you don't have to apologize, it's no big deal.
The thing about phone interviews is that you can't see the person on the other end. Little did he know that the scary and all-powerful Ms. EatRunRead of our e-mail exchanges was me, sitting at my desk wearing running shoes and leggings – a 24-year-old who just ate a cupcake for breakfast.
And what a cupcake it was! Last week I used my free cupcake coupon from Sprinkles to try their cherry blossom cupcake and it was absolutely divine – so good that I couldn't wait to replicate it. I found Sprinkles' strawberry cupcake recipe online, and adapted it to use frozen cherries instead. This cupcake has a wonderful almost spongy texture, thanks to its combined use of egg and egg whites. The cherry is very subtle, I think I would add more cherries and less milk in the future to get a stronger cherry flavor.
Cherry cupcakes (from Sprinkles)
Servings: Makes 1 dozen large cupcakes (I usually make little cupcakes, so I got 16)
Ingredients
2/3 cup fresh or frozen whole cherries (thawed if frozen)
1-1/2 cups all-purpose flour, sifted
1 teaspoon baking powder
1/4 teaspoon coarse salt
1/4 cup whole milk, room temperature
1 teaspoon pure vanilla extract
---