Meatless Monday: Brie and walnut topped portobello mushrooms
(Read article summary)
Quick to make and packed with good nutrients, these portobello mushrooms make a delicious appetizer or the centerpiece for a meatless dish when served alongside a salad and quinoa.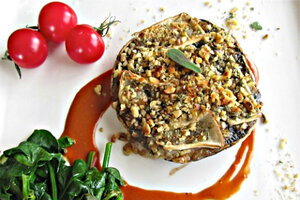 Beyond The Peel
When the hubby is away the wife will play!
In my house that means making all kinds of yummy food that wouldn't really go over well, like popcorn for dinner. It's not quite substantial enough for him. Go figure. Brie, sourdough, and olives with a green salad ... not really his favorite. He thinks that's more of a snack and he'll pass on olives all together! That being said, he has come a long way. I have converted him to liking almost every food, but most things still have to be in moderation.
Enter portobello mushrooms. I love them! But if I were serve to serve them to my husband as the centerpiece of a meal, I would be met with a very sad face.
So, while I have the kitchen to myself, I plan to get my fill of portobellos, eggplants, olives (I bought 3 containers!) and stinky blue cheese.
This dish – portobello mushrooms topped with brie and crunchy walnuts – is the first of those glorious meals. From start to finish it takes less than 20 minutes and it's packed with tons of nutrients and big flavor. It's also loaded with healthy fats and 15 grams of protein. I had mine with lemony spinach. They can be served alone as a sophisticated appetizers, or with greens and quinoa for something more substantial.
And don't skip the tomato balsamic emulsion. It's delicious.
As for the mushrooms, I've tried it with 2 types of cheese and I encourage you to use whatever cheese you like best, but stick to one with big flavor. I recommend Gorgonzola, but a stinky brie was an excellent choice, too. Goat cheese is pretty common and I believe it would work well here, but try and use a cheese that gets melty, gooey and has lots of flavor.
---