Fish sauce or Pok Pok wings
(Read article summary)
Crispy fried chicken wings coated in sticky garlic fish sauce are popular in roadside eateries in Vietnam. Use high quality fish sauce, and try the recipe at home.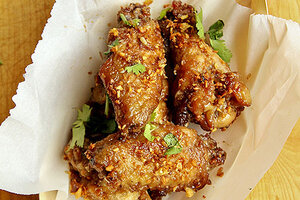 Ravenous Couple
During our recent trip to Vietnam, we had fish sauce wings or cánh gà chiên nước mắm at roadside eateries in Vietnam and loved the sticky, shellac like layer of fish sauce studded with garlic on a crispy fried chicken wing. It's the perfect balanced combination of sweet and salty that Vietnamese foods are known for, and in essence, a process of caramelization not unlike gà kho or thit kho that results in a perfect finger licking lacquer of fish sauce, sugar, and garlic.
Here in the United States, it's unfortunate not that many Vietnamese restaurants serve it. Vietnamese fried chicken wings could prove to be just as popular as Korean fried chicken wings. However, chef Andy Ricker and cook Ich Truong of Pok Pok in Portland, have single-handedly made fish sauce wings into a huge cult hit.
Using Ich's family recipe, the dish was named Food and Wine's Top 10 restaurant dishes of 2007. We recently made it for the Super Bowl without changing much, except for increasing the amount of garlic – by a lot. Make sure you use high quality fish sauce for this recipe, such as Red Boat which does not have any additives. The fish sauce and sugar marinade can really handle a lot more than the recipe calls for so we recommend being aggressive on the garlic. Plus, you can always save any extra fried garlic for another dish or another batch of wings.
---