Black sesame ice cream
(Read article summary)
Black sesame seeds, almost akin to dark chocolate or French roast coffee, have a toastier, nuttier flavor than white sesame seeds and are a favorite in Asian desserts.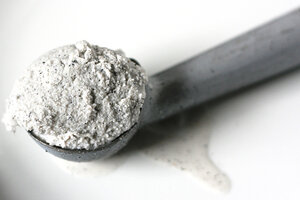 The Asian Grandmothers Cookbook
Have you ever been struck by an incessant food craving that just won't go away? Like a song that lodges in your head and plays over and over again.
Most often, it's a childhood snack or comfort food you crave – Mom's mac and cheese, Twinkies (RIP), or cherry flavored Jell-O. And it's always, always, always, annoying because you simply can't shake it off until you actually indulge it.
In my case, I've been fantasizing about glutinous rice balls in sugar syrup (also known as tang yuan) for the past week or so. You know, those chewy white balls made from glutinous (or sweet rice) flour, the ones that burst open with one bite, releasing a lavalike flow of sweet black sesame paste?
So when Diana Kuan (who writes the marvelous blog appetiteforchina.com) invited me to participate in her Chinese New Year potluck to celebrate her new book "The Chinese Takeout Cookbook," one recipe was calling, siren-like, out to me.
I've seen black sesame ice cream on menus before but I've never tried it, let alone attempted to make it. However, Diana's recipe is so simple that my mind was made up before you could say "black sesame." I whipped up the ice cream base in barely 10 minutes and the ice cream machine did the rest of the work.
---