Jamaican shrimp tacos with mango salsa
(Read article summary)
Winter still got you down? Transport yourself to somewhere sunny and summery with these bright and beach-y tacos. They're quick enough for a weeknight meal.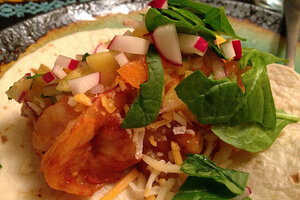 Eat. Run. Read.
Two of my fantastic friends are about to move away. (Yes, this keeps happening – welcome to DC.) Very soon, Tracy and Mike are moving to Nepal (oh hello awesome!!!), then to South Carolina for Tracy to start a PhD program (I feel like a proud parent – my little office-mate is getting all growed up!).
Tracy and I became friends through work – we share an office (The Situation Room) with a Lumineers poster on the door, we regularly rock climb together, venture out on weekly cookie-runs, "global" dinners, coffee shop work-weekends, concerts, and of course go on the occasional camping trip and/or ski trip. Anyone who has shared an office before knows that a good officemate is key and a bad one is literally the worst thing ever. Sooo basically I've been winning.
A while back Tracy and Mike hosted a "family dinner" at their apartment. They put me to work in the best way possible – sous-chef slicing and dicing all the mango salsa components.... totally worth the little effort it required.
They made these amazing shrimp tacos, garnished with the salsa and some other things. I love when other people cook for me for many reasons, one of which is that it means that I eat something I wouldn't think to cook for myself. Shrimp cooks very quickly, so this is a great weeknight I'm-hungry-now meal. (Though the shrimp should marinate for 30 minutes in advance of cooking.) And it's a bright and beach-y meal to transport you (mentally at least) to somewhere sunny and summery.
---