Lively, hearty black bean soup with ham hocks
(Read article summary)
Lots of big flavors– cumin, garlic, celery, red bell pepper, tomatoes, jalapeño pepper, and smoked ham hock– blend into a satisfying soup with a Southwestern kick.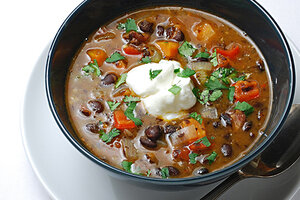 Blue Kitchen
This has been a strange winter. But strange or not, it's still winter, and that had me thinking soup. This soup started with a remembered ham hock not getting any younger in the freezer. My first thought was black-eyed peas, but there was also a bag of dried black beans in the pantry with similar faded youth issues. So black bean soup it was.
The prolific Anonymous once said, "Success has many fathers, while failure is an orphan." Black bean soup must be successful indeed. Its origin has been credited to Mexico, Michigan, Puerto Rico, Cuba, Central America, Europe… Lydia over at Soup Chick even makes a delicious sounding Korean-style black bean soup. Most versions I found when I started thinking about making it took their inspiration from the American Southwest. So did I.
This is a great soup to make a day ahead. It gets better when allowed to rest in the fridge and let the flavors blend. Speaking of flavors, the many potent ingredients– cumin, garlic, celery, bell pepper and even the smoked ham hock– each add their distinctive flavors without taking over the dish. And the jalapeño pepper, while only subtly affecting the taste, brings needed heat. With the volume of soup this recipe produces, the pepper doesn't make it fiery– it just delivers a tingly kick, giving it another layer of interest.
Black bean soup with ham hocks
Serves 4 or 5 as main course
---