Meatless Monday: Kale and black-eyed pea stew and a vegan cookbook review
(Read article summary)
'Superfood Kitchen' by Julie Morris just happens to be 100 percent vegan! It boasts a wide variety of recipes, including a dessert section. Give this kale and black-eyed pea stew a try.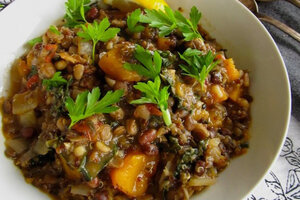 Beyond the Peel
I received a book called the 'Superfood Kitchen' by Julie Morris. I had agreed to review it and would only post a review if I liked it. Well, to my surprise it wasn't only a superfood cookbook, but vegan too! I actually didn't realize it at first with the absence of terms like "vegan cheese" and "butter substitute" but after spending a couple of hours with the book I realized I was going to be in for a real treat! Don't let the price tag fool you (less than $10) it's absolutely packed full of great recipes and information in a 200 plus page hard-cover book.
I had looked for vegan cookbooks before and they are usually disappointing. I'm not saying they all are, just the ones I had access to to look at and flip through. So much of them were filled with tons of sandwiches, pastas dishes (made with white flour noodles), cool whip and nature's balance and vegan cheese (the store-bought nasty stuff, not the homemade ones made from cashews and nutritional yeast).
Julie Morris doesn't market this book as being vegan… it just happens to be. So it was a pleasant surprise. So was the dessert section. Yeah baby! Ice cream cupcakes anyone?! No bake-brownies, truffles, and fudge!
But one can't live on sweets alone. So there's an entire section on breakfast, another for salads and soups. Now you might be thinking, "Oh great, soups and salads, who wants to live off those?" But she included delicious mains, including grain free pasta dishes, creamy noodle dishes made with vegan cream sauces (cream sauces made from cashews are down right amazing by the way), stews, chili, and fun burgers and patties (none of which are made from funky GMO soy products). She even included side dishes like Yam Fries and a one minute ketchup recipe to go with it. There's cracker and flat bread recipes and an entire section on superfood snacks. You don't need to get past the breakfast section to know this book is a keeper. There's not a single recipe I wouldn't make.
---