Meyer lemon ice box pie for Pi Day
(Read article summary)
March 14 (3.14) is Pi Day. Since baking and math go hand in hand, why not celebrate Pi Day with this Southern Meyer lemon pie? Chilled and bright with a tangy citrus flavor, each piece is like a slice of summer.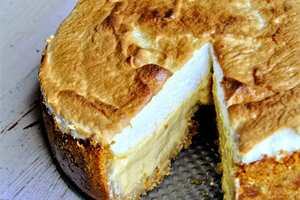 Ravenous Couple
We're fortunate to enjoy a winter harvest with the mild southern California weather. Our garden is full of winter vegetables such as bok choy and edible chrysanthemum, but the harvest we look forward most is our Meyer lemons. Our baby Meyer lemon tree only yielded six lemons last winter, but with more nurturing throughout the year, our tree more than tripled it's bounty this winter.
Thought to have been crossed from a Eureka lemon and a mandarin orange, we love Meyer lemons because it's sweeter and more fragrant then a regular lemon, without the mouth puckering sourness. While juicing them for lemonade is perfectly acceptable, we're always trying to find other ways to maximize our harvest and the unique flavors of Meyer lemons.
That's where this lemon ice box pie comes in. Sarah's version of this classic Southern pie at Hollywood's new The Hart and the Hunter restaurant won us over with it's silky smooth and tart bright flavors. Plus, the chilled texture of the pie was a pleasure to eat. We immediately went home to harvest our Meyer lemon tree and attempted to recreate the pie.
A lemon ice box pie differs from a classic lemon meringue pie in two key ways. First, you're not cooking the lemon custard ahead of time and second, it's a frozen pie, which sets the lemon filling and also a great way to enjoy the bright citrus flavors. There are many recipes on the Internet that use cream cheese and whipped cream topping. Our recipe is adapted from Food and Wine magazine and based on what we ate from Sarah's creation.
---