Pi Day: Celebrate with a vintage custard pie
(Read article summary)
Pi Day may be a good excuse to indulge in whipped cream and sugary fillings nestled in graham cracker crusts. Here's a vintage pie recipe that doesn't go overboard with sugar and is still a satisfying end to a good meal.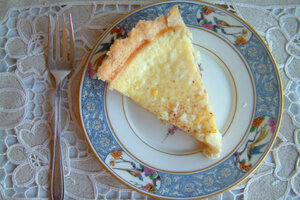 Kitchen Report
Baking a pie for Pi Day (March 14, aka 3.14) may seem like a daunting task. But an easy recipe to tackle would be this simple Victorian custard pie from the late 1800s. With its short list of ingredients, not much can go wrong. I tested it last fall for the Mary Baker Eddy Library, which sponsored a month-long look at 19th-century foodways. (Mary Baker Eddy was the founder of The Christian Science Monitor.)
The first thing I noticed was how few eggs and little sugar are used in this recipe. Most contemporary custard pie recipes call for 3 to 4 eggs and at least 3/4 cups of sugar, as opposed to the old-timey 3 tablespoons in this recipe from Fannie Farmer's "The Boston Cooking-School Cookbook." This could be for two reasons: (1) sugar was an expensive commodity in the late 1800s and (2) the American diet was much more bland than it is today.
I doubt the taste buds of our Victorian-era ancestors could tolerate our modern sugar-based diet!
The other wording I stumbled over in this recipe was "paste," this of course meant the pie shell. And in Fannie Farmer's cookbook there was no actual recipe for the pie shell. I can only assume that the cooking school took for granted that most home cooks knew how to mix and roll out a pie shell.
I do not, at least not by heart.
My preference, of course, is to buy a premade pie shell because it's so easy and takes no time. But for the sake of recreating the Victorian experience, I persisted to rollout my own dough. If you are a novice pie dough maker like me, be sure to mix and refrigerate your dough before preparing the filling.
---