M&M, chocolate chip monster cookies
(Read article summary)
There's a cookie monster inside many of us, and that calls for a monster cookie. This do-ahead recipe is all about the chocolate; chocolate chip cookies rolled in mini M&Ms.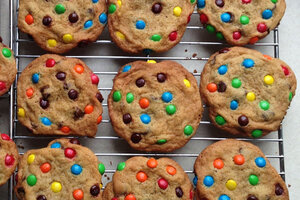 Eat. Run. Read.
I don't think there's any doubt around here that, though I may not be blue or have googley eyes, I'm a bit of a Cookie Monster myself. They're just so good! Chewy cookies, crunchy cookies, oatey or chocolatey or sugary cookies! I like them all. And they go so well with coffee, for snack, after meals, all the time.
And what does a cookie monster need? A monster cookie!
The Monster Cookies at Corner Bakery Café, a dangerously few short blocks from my office, are my (now ex)-co-worker Tracy's favorites. Unlike other monster cookies, this recipe doesn't have oatmeal or raisins or nuts – they're all about the chocolate. Chocolate chips inside, mini M&Ms outside. They taste like every chocolate chip cookie should – buttery, and chocolately, and a tiny bit salty. The outsides are a bit crispy and the insides are super-gooey-chewy.
I made these to bring to work last week and they were great! I made the dough a day in advance, refrigerated it before shaping the cookies, then I froze the shaped balls of dough overnight. That whole process isn't necessary, that's just how timing best worked out for me. But if you don't have time to chill or freeze the dough, I suggest adding a 1/2 cup more flour, otherwise they may spread out too much in the oven.
Ready for some other wise words from the muppet himself? "A cookie with one bite out of it looks like a C! A round donut with a bite out of it also looks like a C!" See what I mean? We're totally on the same page. After my marathon this Saturday it's going to be donut time.
Monster cookies
This recipe makes 3 to 4 dozen cookies. It can easily be halved if you're feeling like controlling your inner monster, and it's a one-bowl recipe.
---