Country ham biscuit bites with cheese
(Read article summary)
Buttermilk biscuits and salty country ham are a match made in heaven. Kick it up a notch by incorporating the ham directly into the biscuit and adding a layer of cheese.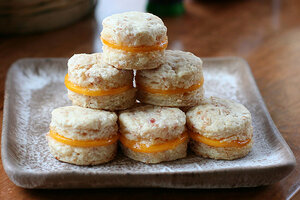 The Runaway Spoon
My love for biscuits is well documented (13 recipes on The Runaway Spoon at last count), and my love of country ham equally evident when you peruse my recipes. I have always enjoyed a warm, buttery biscuit with a slice of salty country ham tucked inside, so the next logical step seemed to be incorporating the ham directly into the biscuit. And these are heavenly morsels of Southern flavor.
Cut into small biscuits, these little rounds make a wonderful brunch bite or party snack with their cheesy filling. But they are just good biscuits, so use them how you will. Cut them large and serve with butter or gravy for breakfast, or spread a little mustard instead of butter before you melt the cheese.
I buy already ground country ham, sometimes online and sometimes I find it at local markets. If you can't find it, grind some country ham slices in a food processor until you have a crumbly mixture, but not a paste. To add the delicious, melty center, I use thick cut sandwich slices of sharp cheddar cheese for ease, but feel free to cut slices from a block.
Country ham biscuit bites with cheese
Makes about 2 dozen 2-inch biscuits
2-1/2 cups soft wheat flour (such as White Lily)
2-1/2 teaspoons baking powder
1-1/2 teaspoons salt
1/2 cup (1 stick) cold butter, cut into small cubes
4 ounces ground country ham
2 teaspoons Dijon mustard
1 cup buttermilk
14 thick slices cheddar cheese
softened butter for spreading
Preheat the oven to 400 degrees F. Spray two 9-inch cake pans with cooking spray.
---