A sweet treat for Passover: Matzoh crack
(Read article summary)
A new spin on this dangerously delicious Passover dessert with white chocolate and spicy rose sugar. Recipe and variations below.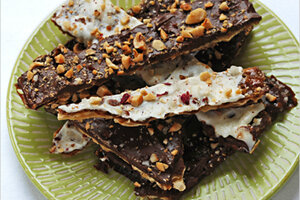 Blue Kitchen
This post is by Terry's wife Marion.
Our family may not have every ethnic group, but we've got a lot of 'em. English, Scottish, Polish, Jewish, Cherokee – and that is just a fraction of it. We are part of the portrait of America, the welcome everyone! stream that keeps reviving and renewing and invigorating us all: one family, one people, one house.
When we started planning for Passover, a couple of weeks ago, the foremost thing I was worried about was dessert. So many truly kosher-for-Passover desserts are borrrrrrring. This year I had great hopes for a couple of things, especially a cake with a great deal of roasted, ground nuts and lots of eggs, plus dates steeped in wine, lemon zest and cardamom. That experiment can best be described as unfortunate: it came out tasting like a slightly fragrant cardboard box and leaving me close to despair. But as I was poking around online, I kept bumping into versions of "Matzoh Crack," a recipe primarily featuring sheets of matzoh, caramel, plenty of chocolate, and sea salt. Some recipes may more politely refer to it as "matzoh crunch."
Frankly, this recipe is all over the Intertubes. The original was created 20 years ago by Marcy Goldman of betterbaking.com; since then numerous bloggers have run with it. All the descendants are very near her original – and all share its amazing rich simplicity.
And the addictiveness. You may want to strategize about this one. What Marcy warns about her version is true for all of them: "Make a box for yourself before Passover and one box to serve at your seders." You could also make a bunch and bring it in to your office, where it will last about 3-1/2 minutes.
---