Butternut squash and crispy sage savory tart
(Read article summary)
Being single in New York City can be a real drag. But that doesn't mean you can't treat yourself to a delicious home cooked meal with this butternut squash tart.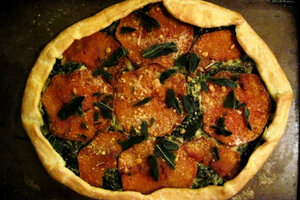 nestMeg
Moving to New York City solo (or, frankly, under any circumstances), you may have heard, is not for the faint of heart, the codependent, the wary-of-public-transportation types. Despite the endless number of people I encounter everyday, I have never experienced a living situation as profoundly lonely as life here. I've always considered myself an independent person, but existing here means I also have to be an entertaining one – to myself.
Many of you have heard the trials of city singledom, whether from me or from HBO's "Girls" or from "Sex and the City" or from the countless movies that portray Strong Female Leads Living in Metropolitan Areas (with absurdly, unrealistically large apartments) who are secretly desperately lonely. (Presumably because they have invested too much in their careers and not enough in their romances? Can we possibly try for new plotlines in 2013, please? There is not a small number of us who seek more than one objective in life and balance them all just fine.)
But if you haven't heard about dating in NYC, I'm not going to regale you with the specific foibles and follies. It's been covered, I think, and also my parents read this blog. I will say, however, that it is incredibly taxing despite what seems like overwhelmingly good odds. I mean, there are 8 million people in this city, and based on my very precise Algorithm of Eligible Bachelors Dwelling in the Five Boroughs, there must be a solid 10,000 who meet basic criteria.
As it turns out, though, basic criteria is not enough. Because as you can imagine, 10,000 men is a challenge to weed through. And every one I meet, I think "Oh yes, this is one is acceptable. But I bet I could find one who also understands my deep and sustained love for the emo music I listened to in high school." (See: "The Paradox of Choice" by Barry Schwartz.) (Also, that's just an example. I definitely don't listen to emo anymore! Seriously! I don't!) I, too, am a victim of too much choice, the possibility of someone somehow better existing too tantalizing to pass up, as I found out recently after being rejected by an unemployed man who's "too busy" for a second date.
---