Girl Scout cookie upside down cake
(Read article summary)
It's spring, and that means Girl Scout cookie season. If you can resist long enough, save a sleeve of your favorite cookies and use this cake recipe to create a special treat.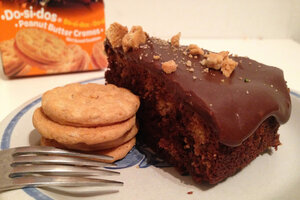 Eat. Run. Read.
When I was growing up, the cookie tin in the corner of my family's kitchen was rarely empty and usually full – chocolate chip, biscotti, molasses ginger, or oatmeal raisin were our favorites. But of course, to my elementary school self, there was nothing cool about homemade anything. In my silly little head, my wildest dream lunch included a lunchable, or those yogurts with the sprinkles in them, "store-bought" cookies, and a soda. All I wanted was to open my lunch box to a package of Oreos, or Nutter Butters or Girl Scout cookies.
By now my lunch fantasies have matured. At this point I would be psyched out of my mind if anyone packed me any kind of lunch. And cookie-wise, well, well well, I can eat any kind of cookies I want!
So since it's the season, let's talk Girl Scout cookies. I did not grow up with them, and therefore have far less experience than most, but I know that people get crazy excited the second spring rolls around and little girls all over the city sit at tables covered in tantalizingly colorful boxes.
---