Lavish lemon cake
(Read article summary)
Filled with lemon curd, topped with a sweet lemony glaze, and decorated with lemon drops, this lemon bundt cake is tart and sweet and full of flavor from top to bottom.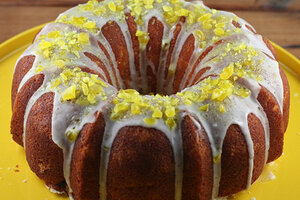 The Runaway Spoon
When you are the cook in the family, the special task of creating family celebration meals falls to you. It is an honor and a privilege and one I take very seriously.
I always pay attention to what my family members like (and don't) and my favorite kitchen task is devising and creating meals or treats that will surprise and delight them. When the whole family is gathered around the table, sharing favorite dishes, my heart is full to bursting.
I created this cake for my mother, who loves, loves lemon. I have piled on every level of lemon flavor I can think of. Luscious lemon curd is her favorite, so I've filled the cake with it. The cake itself is packed with lemon flavor and the sweet glaze is like sugary lemonade. A sparkling shower of crushed lemon drops adds crunch (which Mom also loves), lip-puckering sweetness and a pretty shimmer.
Lavish lemon cake
Serves 10 – 12
3 lemons
1 cup (2 sticks) butter, softened
2 cups granulated sugar, plus 2 tablespoons
4 eggs
1 cup buttermilk
3 cups all-purpose flour
1 teaspoon baking powder
1 teaspoon salt
1/2 teaspoon baking soda
3/4 cup lemon curd, homemade or purchased
1-1/4 cup confectioner's sugar
lemon drop candies for garnish
1. Preheat the oven to 350 degrees F. Grease and flour a 12-cup bundt pan, or spray with Bakers' Joy.
2. Grate the zest from one of the lemons and set aside. Juice all the lemons.
---