Julia Child's sole meuniere
(Read article summary)
The dish that set Julia Child on her culinary path was a sole meunière tasted in Rouen, France. Its perfection lies in its simplicity and should be a staple in every home cook's repertoire.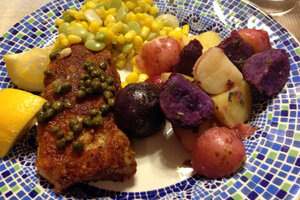 Kitchen Report
In the webinar I am currently teaching "An American culinary journey: From succotash to urban chickens," we are spending an entire section on Julia Child.
In many ways Julia's own journey (and I feel like I can be on a first name basis here, since her genius lay in her ability to be accessible and engaging) epitomizes the transition of American cuisine – from one that was recovering from war rations and Jell-O molds into the discovery of cuisine, food as an element able to delight the senses, engage the mind, and empower a cook to exude creativity.
Her own awakening, as it is widely known, came in Rouen, France with sole meunière.
Paul and Julia Child, who had both worked for the Office of Strategic Services, moved to Paris when Paul accepted a job as an exhibits officer with the United States Information Agency.
Paul, who was an artist, poet, and photographer, had the more sophisticated palate of the couple and it was he who introduced Julia to French cuisine in a way that opened her eyes to the notion that food could be a form of high art. In her book, "My Life in France," which she co-authored with her nephew, Alex Prud'Homme, Julia describes experiencing true French cuisine for the first time when she and Paul arrived in Rouen, France:
"Rouen is famous for its duck dishes, but after consulting the waiter Paul had decided to order sole meunière. It arrived whole: a large, flat Dover sole that was perfectly browned in a sputtering butter sauce with a sprinkling of chopped parsley on top. The waiter carefully placed the platter in front of us, stepped back, and said: 'Bon appetit!'
---