Oreo cupcakes with cream cheese frosting
(Read article summary)
Take everyone's favorite milk and cookie combo to the next level with these Oreo cupcakes. Iced with a cream cheese frosting and topped with crumbled cookies, they're something special.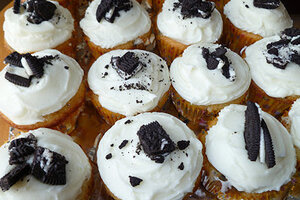 The Pastry Chef's Baking
Did you know that once you open a package of Oreos, you should eat them shortly thereafter if you want them fresh and still crunchy? Honestly. Usually when I buy a package of Oreos, I already have a recipe in mind to use them in so an open package doesn't stick around long in my pantry. I try not to actually eat them straight out of the package but prefer to incorporate them into baked goods – such as these cupcakes.
This turned out to be a good vanilla cupcake recipe. It was moist and tasted delicious. The addition of the Oreos added flavor and a little crunch but I think if you wanted a plain vanilla cupcake recipe, you could also omit the Oreos and serve these unadorned, they are that good. If you want to keep the crunch of the Oreos as garnish, don't sprinkle them over the frosting until right before you serve it. Otherwise the exposure to air plus sitting on top of frosting will soften the Oreos. I prefer a topping with crunch, so I sprinkle the chopped-up Oreos on top of the frosting at the last minute.
Oreo cupcakes
From Annie's Eats via Stockpiling Moms
24 Oreo halves, with cream filling attached
2-1/4 cups all-purpose flour
1 teaspoon baking powder
1/2 teaspoon salt
8 tablespoons unsalted butter, at room temperature
1-2/3 cups sugar
2 large eggs
2 teaspoons vanilla extract
1 cup milk
20 Oreo cookies, coarsely chopped
1. Preheat the oven to 350 degrees F. Line the wells of two cupcake pans with 24 paper liners. Place an Oreo halve in the bottom of each liner, cream side up.
---