Country Captain with coconut rice
(Read article summary)
Country Captain is an old Southern recipe inspired by the Indian spice trade. Serve up slow-cooked chicken pieces flavored with spices and veggies, next to a pile of sweet coconut rice.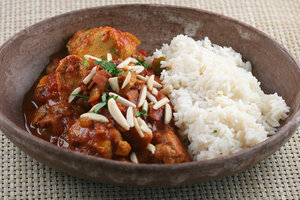 The Runaway Spoon
Country Captain is an old Low Country dish that dates from the days when Charleston and Savannah were important stops on the spice route, and the British influence of trade with India held sway. Early dishes from the Southern repertoire include lots of interesting spices, and the older the recipe, the more exotic it may seem.
Recipes for Country Captain appear in all sorts of Southern community cook books, the same concept with slight variations from cook to cook. It is served at fine restaurants and fine homes, was a favorite of FDR and General Patton and because of that, made its way into the Army's meals-ready-to-eat program. It has the best qualities of a Southern recipe: ancient tradition, a storied history, the special touches of generations of cooks – all with a contemporary feel in any decade.
Almost every recipe for Country Captain I have read or eaten uses bone-in, skin on chicken pieces, or just a quartered chicken. But I find that awkward to eat, and you really don't get enough of the deep, spiced sauce for my liking. So I altered my recipe to be more like a chicken stew, with hearty chunks of boneless thighs and breast.
I've upped the spice factor, too, and added a little sweet sophistication with a dash of Madeira. Country Captain is generally served with rice, once a staple grown in the Low Country, but I say why go plain when you can boost the flavor with some coconut.
Country captain with coconut rice
Serves 4
For the Country Captain:
1 tablespoon curry powder
---