Raspberry coconut layer bars
(Read article summary)
These delicious bar cookies are layers of graham cracker, coconut, sweetened condensed milk, raspberry jam, almonds, and chocolate.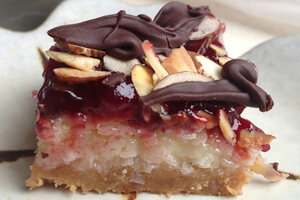 Eat.Run.Read.
Last Friday, if you recall, was kind of a stressful everything-is-terrible-and-sad sort of day. And from my perspective, there is only one reasonable and constructive way to respond to this – bake something amazing!
I always find baking relaxing. It requires enough thought and focus that you really can't multitask it without running the risk of accidentally forgetting baking soda, or switching salt for sugar, or ooh whoops that was supposed to be 300 degrees F and not 375? It is active and yet not challenging (unless you're whipping that cream by hand), and it results in something edible and hopefully delicious to share.
With Boston news on in the background, and thunder and lightning and tornado-style wind outside my windows, I calmly cracked a can of sweetened condensed milk, took out my aggression crushing a sleeve of graham crackers, and layered up these bars that may sound like too much, but trust me they are just right.
Let's talk about the layers: graham cracker crust, coconut and sweetened condensed milk, raspberry jam, toasted almonds, and semi-sweet chocolate.
Like I said, these are intense little bars of awesomeness, and come with a hefty warning: for sharing! I may or may not have eaten four on Saturday alone (breakfast, post-lunch, post-dirt biking, dessert – nothing makes a crushed foot feel better like coconut!). 
On a scale from one to you-will-not-regret-these, go make them now. If someone would be so kind as to deliver a can of sweetened condensed milk to my door, I would make another batch immediately.
Raspberry coconut layer bars
Click here for a printable recipe from Eat.Run.Read.
Recipe adapted from The Cutting Edge of Ordinary
1-2/3 cup graham cracker crumbs (1 sleeve of graham crackers, crushed)
1/2 stick butter (melted)
1 tablespoons sugar
3 cups sweetened flaked coconut
1 14 ounce can sweetened condensed milk
1 cup seedless raspberry jam (about half a jar – up to you how much jam you want)
3/4 cup slivered almonds, lightly toasted in the oven
1/2 cup semi-sweet chocolate chips (and/or white chocolate chips)
1. Preheat the oven to 350 degrees F. (To toast the almonds, I put them in a cake pan in the oven while it was preheating – if you do this, make sure you check on them so they don't burn.)
2. Combine graham cracker crumbs, butter and sugar in a bowl. Press firmly into bottom of a greased and parchment paper-lined 7x11-inch pan (OK, so the original recipe says to use a 9x13-inch pan, but that just seemed too big so I went with something slightly smaller. You could also do a 9x9-inch and make them thicker and/or make a few extra mini ones in a cupcake pan). 
3. Spread coconut over the top, and then pour sweetened condensed milk evenly over top. 
4. Bake for 25 minutes, or until lightly browned. Cool completely on wire rack. 
5. Spread jam over cooled top, sprinkle with nuts. 
6. Melt the chocolate chips in a small bowl in the microwave for 30 seconds and then at 10 second intervals until just melted. I used a fork to drizzle the chocolate over the bars. 
7. Cool completely before cutting. 
---