Posole: Mexican chicken and hominy soup
(Read article summary)
Celebrate Cinco de Mayo with this authentic Mexican hominy soup. Toppings range from avocado, tortilla chips, cheese, radishes, and red onions and add celebration and ceremony to a rustic meal.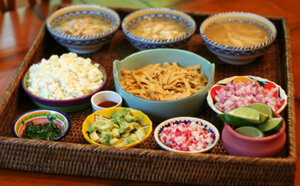 The Runaway Spoon
One of the great joys of my life in food is meeting other food writers in amazing places. This winter, I had the great pleasure of spending an amazing week at a writing workshop in Tepotzlan, Mexico at Cocinar Mexicano. Iconic food writer Betty Fussell lead a spectacular group of women through the birth of some great writing projects.
Tepotzlan is nestled in the mountains of central Mexico and the stunning scenery lends a magical air. And it is the loudest place I have ever visited. I was there for the festival of the Three Kings, which went on for days, but there were several other festivals that week as well. Locals assured us that with the different barrio festivals, saints' days and general holidays, there is pretty much a festival every week of the year. The sounds of bands playing in processions, cars honking in celebration, dogs barking with excitement, church bells pealing and intermittent bursts of fireworks makes the town a cacophonous but joyous place. The experience inspired me and opened my mind and really got my creative juices flowing.
Adding to the wall-to-wall inspiration was some of the best food I've had the pleasure to eat. The central market is bursting with chilies of every type, fresh and dried, and more varieties of corn than I can begin to list. Stallholders make and sell fresh tortillas made to order from that corn, filled with all manner of delicious things. I ate squash blossoms every day, sampled several delicious mole sauces, experienced huitlachoce (a rich, mushroomy corn fungus) in all manner of dishes and even crunched on some fried crickets. I learned to make tamales and tortillas myself, and reveled in devouring the results.
---