Meatless Monday: Roasted cauliflower mint salad with citrus cashew dressing
(Read article summary)
A flavoring of mint will bring a hint of spring to any dish. Combine with bright with citrus flavors in a dressing and transform hearty, smokey roasted cauliflower into a fresh, seasonal meal.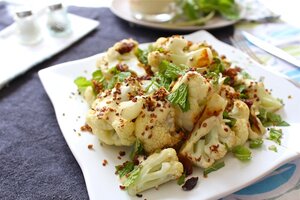 Beyond The Peel
There are some flavors that make you feel like it's spring, no matter what the temperature is outside. Take dill for example. There's nothing "winter" about dill. No matter how you shake a stick (or magic wand) at it. Mint is the same. So while the snow was falling and the temperature dropped to below 0 C., I decided to eat "spring" until it decided to show up.
I have good news!
Spring is here. There are no sub zero temperatures in the forecast, in fact it will be down right balmy. Balmy for Canada at any rate. If the forecast holds true (pretty, pretty please with a cherry on top), this girl just might have an outdoor shower in her future.
And the second reason I know spring is here: I heard something magical this morning. Not the chirp, chirp, chirp of birds singing, but rather the thud, thud, thud thuthuthuthtut, of the grouses mating call, who just happened to be in my yard this morning. I don't know exactly how to describe it. It's a sound I've never heard before coming out to this place. I liken it to a generator starting up, but with less shrill, and much more deep and guttural. It was a glorious way to wake up. Spring is indeed here.
And second, this warm salad is so delicious I couldn't stop eating it. I actually made my way through two heads of cauliflower in a matter of days. Embarrassing? A little. But yeah, if one is to chow down on something, far better to be cauliflower than say, brownies or poutine. Which I have been guilty of both in the past.
The hemp seed "bread crumbs" are completely addicting and fabulously grain free and nut free. I look forward to trying it out on a vegan style mac and cheese soon. If you don't feel like running out and buying some just to make this, please don't feel obliged. It's delicious either way. I know because I finished eating the "breadcrumbs" out of the bowl, not leaving myself any for my second helping.
---