Butterflaps
(Read article summary)
Butterflaps are warm, puffy rolls that are filled with butter and folded over on themselves. You might even call them a kind of croissant of the Caribbean.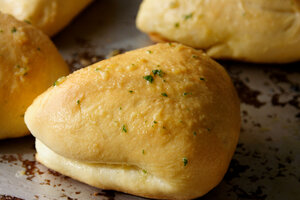 Tastes Like Home
Butterflaps have long been a favourite on the Guyanese food-scene. Butterflaps are white bread dough that's been cut into pieces, rolled, liberally spread with butter, folded over twice (hence the flap), and baked. Just as they come out of the oven, they are loving caressed with some warm, melted butter!
For excellent butterflaps you have to start with a really high-quality salted butter. I recently brought a can of some good Dutch salted butter that I used in this recipe. You can use any white-bread dough recipe but the following recipe is the one I like to use.
Butterflaps
Makes 12
1 plus 1/2 cups warm water
2 tablespoons white granulated sugar
1 tablespoon dry active yeast
4 cups all purpose flour, plus extra for work surface
1 teaspoon kosher salt
2 tablespoons canola or vegetable oil
1 cup plus 2 tablespoons high quality salted butter
Equipment
1 medium-sized bowl
Plastic wrap
1 dinner fork
1 large bowl, oiled
Damp kitchen towels
1 tablespoon
2 baking sheets
2 wire racks
1 small pastry brush
1. Add sugar to medium bowl, pour in water and stir to dissolve sugar. Stir in yeast. Cover bowl with plastic wrap and put in warm place to proof for 10 minutes.
2. Add flour to large bowl along with salt and mix thoroughly.
3. Make a well in the center of the flour; pour in the yeast mixture (scrape the bowl) along with oil.
4. Using the fork, stir mixing the flour and yeast mixture until combined. Turn dough and remnants onto work surface and knead for 3 – 4 minutes, dusting lightly with flour to avoid stickiness.
---