Meatless Monday: linguine with asparagus, tomatoes, and goat cheese
(Read article summary)
This quick vegetarian pasta dish makes the most of in-season-now asparagus and gets a bright flavor boost from balsamic vinegar.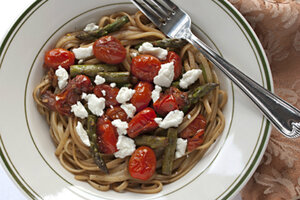 Blue Kitchen
We were in St. Louis a few weeks ago, visiting our friends Rich and Laura. As usual, we ate lots of good food there. Scoops of Ozark black walnut ice cream at Crown Candy Kitchen. Heart healthy (and satisfying) egg white breakfast sandwiches at the bustling Nadoz Euro Bakery and Cafe. Local, seasonal-focused classic French cuisine at Franco, housed in the former Welsh Baby Carriage Factory across the street from Soulard Market.
But our favorite meal was prepared in our friends' hardworking, beautiful open kitchen. Laura is a vegetarian whose diet skews mostly vegan, with detours into pescetarian. That doesn't keep her from cooking meat for her omnivorous family and friends, though.
The meal in question involved a wonderful mushroom-stuffed rolled pork tenderloin, pan seared, then roasted. Don't be surprised if a version turns up here one day. As delicious as the tenderloin was, this week's recipe was inspired by her show-stealing side dish – steamed asparagus topped with sautéed grape tomatoes finished with garlic and balsamic vinegar and topped with dollops of goat cheese. The big flavors of the tomatoes and asparagus are enhanced by the vinegar, and everything is balanced by the creamy goat cheese. To give it a starring role, I turned this flavorful side into a vegetarian pasta main course.
Asparagus is in season now, beckoning from produce shelves everywhere. For this dish, you don't need the pencil-skinny spears, but you definitely don't want the chunky asparagus cigars (I mean seriously, who ever wants those?). Skinny to medium spears will work best.
---