Chipotle shredded beef flatbread sandwiches
(Read article summary)
The best part about the components of this dish is that you can mix and match the pieces. Enjoy the corn and bean relish as part of this sandwich or with a bowl of tortilla chips. Enjoy the queso drizzled over a hamburger or tossed with macaroni. Even the spicy beef can be served on its own with a side of mashed potatoes.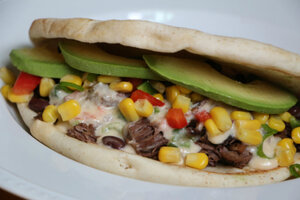 The Gourmand Mom
My husband's band was out of town for a gig on Saturday night, leaving me to get up early with the kids on Mother's Day, as they eagerly attempted to prepare me my traditional, once-a-year breakfast-in-bed. My breakfast tray featured a half-eaten chocolate doughnut, sitting on top of a frozen pancake, which was elegantly placed on the foil wrapper from the plastic tub of the Frosted Flakes they prepared for me. (My boys prepare a classy breakfast tray.) They decided to toast only half of the bagel and gave up on spreading the too-thick cream cheese. The baby stayed occupied during the breakfast preparation by dipping an Elmo spoon into my cup of orange juice, taking small sips, then repeating. I enthusiastically ate all of my perfectly imperfect breakfast, of course.
Following breakfast, the three boys proceeded to spin cyclones of chaos around the house in a flurry of special day excitement equivalent to that of Christmas morning. I spent a good part of the morning chasing after them, picking up garbage and toys from the floor, in a fruitless attempt at maintaining some semblance of order. At some point, caught between equal parts desire to live in a tidy house and lack of desire to pick up any more toys or fight with the kids to do it, compounded by my longing for a restful Mother's Day, I fell apart. I sat on the stairs and had myself a good cry, equal parts disappointed that my day wasn't going as I envisioned it would and angry at myself for being unable to just settle into the chaotic messiness of the morning.
---