Almond butter and Nutella swirl cookies
(Read article summary)
Favorite desserts are hard to pick, but these cookies – fudgy and moist, with a swirl of Nutella – are sure to top your list.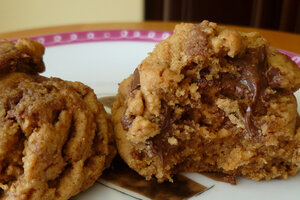 The Pastry Chef's Baking
Whenever people find out I'm a baking hobbyist, the most common question I get is "what's your favorite dessert?" I've mentioned before that it's really hard for me to answer that question because I don't have one particular favorite. I believe in unconditional love for many desserts. The analogy I like to use is I can't pick a favorite hair on my head either; I like them all – they keep my head warm.
However, a sure sign that I might like one dessert a bit more than most of the others is if I'm willing to make it again for myself, not just because someone requested it. So, for the next several weeks (or months, depending on my mood), I'm going to remake and repost some all-time favorites, partly because they deserve another spot on the stage because I think they're just that good, and partly because I just want to make them again and take a better picture for my blog!
What I love about this cookie is the taste and texture. It stays nice and chubby, hardly spreads during baking and it's just good. The best way to get significant swirls of Nutella is to make the batter first without the Nutella then drop dollops of it on top of your cookie dough and swirl only very slightly. Scoop it out, leaving the big swirls of Nutella intact as much as possible, chill or freeze until firm, then bake.
---