Vegan sloppy Joes and roasted potato and tomato salad
(Read article summary)
Make a tasty, veggie-friendly dinner with mushroom vegan sloppy Joes, and a roasted potato and tomato salad with crispy capers and dill.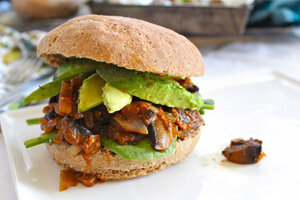 Beyond the Peel
I'm craving a juicy beef burger! Correction. A juicy beef burger with fries. You gotta love those "comes out of nowhere food cravings." I mean really, I never crave a burger. Never.
But you know how cravings go? They rarely go away unless you give in. At least a little.
I guess I could have gone with a veggie burger, but in my experience, there's nothing "juicy" about a veggie patty. Sure they're delicious but never juicy. Maybe moist at best. I could have driven into town. It's a 2-1/2-hour round trip drive. And to be honest, I might have if the craving had been strong enough. The good news is I had a moment of sanity. I decided to stay put and deal with it in a more healthy way.
I decided to go with mushroom vegan sloppy Joes. Nowhere near a burger, I know, but I thought I'd give it a try. After all, there's not ground meat of any kind anywhere near me, while I'm camped out in this fire tower cottage. I don't know if you've tried this before but it was delicious. Like, really good.
So good in fact, I kind of surprised myself. Sure I thought a meatless sloppy Joes would be OK. I mean, after all, all the ingredients going in were good on their own. I wasn't doubting that it would be tasty, but I wasn't prepared for mouth watering, juicy goodness wrapped up in a bun!
---