Nova Scotia brown bread
(Read article summary)
Besides being delicious, this inherited recipe has carried warm memories across the generations.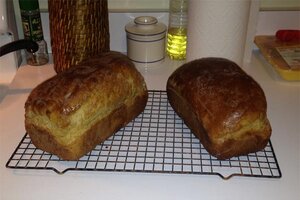 Ben Frederick
The smell of bread baking in my apartment kitchen catapults me back in time into a smaller pair of shoes – those of an ungainly elementary school kid. When I would come home, my mom would often be in the kitchen. She worked from home as a freelance writer, and she made bread for us every week.
By the time I kicked off my shoes and slid onto the linoleum floor of our oven-warmed kitchen, all the petty cares of the school day (and subject-matter of the lessons) were forgotten. Some days, I'd grab an apron, wash my hands, and she'd let me knead the bread.
It was always the same recipe – one that has been in our family for generations, and is easily 100 years old.
When she was 12, my mom would make this same bread with her grandmother, "Nana Mac" – a Nova Scotia transplant who would clean her house while blasting bagpipe music from her turntable record player. I never knew her, but I imagine she said things like "ach" and "lassie" as a part of her everyday conversation. I also imagine she accessorized with a broom, and wore her hair in a bun, for some reason. Tartan features strongly in these false memories as well.
I've eaten this bread my whole life. So has my mom. Yeast, and oats, and molasses, and butter, and flour; apron strings, and linoleum, and dough – these are the smells and feelings that my family knows instinctively as comfort and safety. They fill my small apartment kitchen when I open the oven and remove the warm, brown, slightly uneven loaves. I cut off an end piece and butter it up. This place has started to feel like home.
---