Asparagus and caramelized onion tart
(Read article summary)
It's asparagus season, and this delightfully simple tart keeps the weekend restful so you can be ready to greet a new week.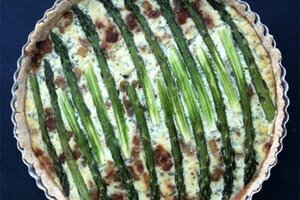 The Rowdy Chowgirl
There are hints of both the blessed and the accursed about some Sundays. The good parts, of course, are obvious. A day of worship for many. A day of rest. It is a day of sleeping in, and long breakfasts, and lolling and lounging and hot baths and long runs and maybe even a nap.
All good. All very good. But there is this whiff of despair in the air some Sundays, or maybe it's just me, looking ahead and counting the dwindling hours of freedom and ease.
Instead of staying in the pleasant now of couch and cat and book I start doing mental arithmetic: this many hours until I need to get ready for work tomorrow, and then get to bed and then get up and go to work and oh, my week is going to be so busy, and I don't want to go to work, not yet … and there I am, dreading Monday morning instead of living Sunday afternoon. I'm sure I smell a whiff of brimstone in the air, possibly hear the echo of devilish laughter.
But you know what helps drive back the darkness? A little time spent in the kitchen – not hurrying, just flowing with the chopping and stirring. And then a good meal, like this summer-y tart. Yes, the leftovers will be good for lunch on Monday afternoon, too. But don't think about Monday while you are making it.
Asparagus and Caramelized Onion Tart
1 shortcrust tart shell
1 large onion
1 teaspoon olive oil
15 ounces whole milk ricotta
---