Salted chocolate cookies with ginger and coconut
(Read article summary)
Any day could be a day to thank Mom, especially if she hands you one of these delicious cookies.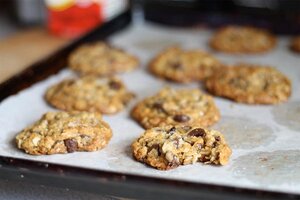 In Praise of Leftovers
Editor's note: In Praise of Leftovers posted the recipes for these cookies on Mother's Day. We thought the mother's wisdom and recipe were just too good to wait another year before we shared them with Stir It Up! readers. Besides, every day is a good day to thank Mom, and have a fresh cookie, hot out of the oven.
These really are worth reading about. Stay on the line.
As you must know by now, food is the way for me to talk about everything else. And since tomorrow is Mother's Day, I've got a few things on my mind.
As I've become a mother, I've found I have really mixed feelings about Mother's Day. I look forward to the cards my kids make me, and if I'm lucky Wyatt will write me a poem. I look forward to lounging around in the morning and sometimes reminiscing about having babies or what life was like before half of my budget went to Target.
But...
There should be a Women's Day instead of Mother's Day. A day to honor whatever thoughtful choices we have made in our lives.
Deciding not to be a mother is full of integrity. And brave. Our culture puts so much emphasis – overtly and subtly – on motherhood as the fulfillment of womanhood. I have been blessed, over and over again, by women in my life who are not mothers. They have more energy for their work in the world. They seem less distracted, and they have a lot of love left for my children!
The maternal spirit comes in many forms. It's in godmothers and godfathers. It's in anyone who lovingly takes care of children for a living or as a favor. It shows whenever there's care for another person. It shows in our care for our pets, too. You don't have to actually be a mother to experience all that love going around.
My children don't owe me anything. I don't need to be thanked for bringing them into the world.
---