7 barbecue tips and facts for Memorial Day
(Read article summary)
Memorial Day has long been the herald of summer. Barbecue grills of all shapes and sizes will be dusted off and set to blazing this weekend. Myron Mixon has a bounty of tips in his new cookbook that will make you master of your own backyard, plus a recipe for the only sauce you'll ever need.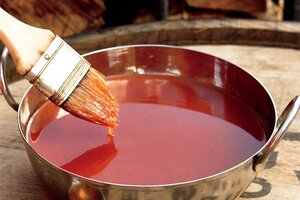 Alex Martinez
Myron Mixon, who has written two barbecue cookbooks, makes his living opening restaurants, winning barbecue competitions, and being a judge on the show "Barbecue Pitmasters" on Discovery. So when the master speaks, we should all listen. Here are some flavorful bits we gleaned from his newest cookbook, "Everyday Barbecue":
1. Barbecue is simple, don't over-think it. You really don't need a fancy grill or expensive tools to be a pitmaster. Barbecue is the modern-day equivalent of roasting meat over a fire in the woods. Actually, it still is just meat roasted over a fire – except the woods are backyard lawns, and there are no wolves or bears.
2. Marinate meat if you want people to like you. Marinades add layers of flavor – meat speaks for itself, but the downfall of the average backyard grill master is the quality of the meat. Different marinades also enable variations in recipes with the same cut of meat.
3. Pork belly is bacon that hasn't been sliced yet. Let's all stay calm when we consider this. Don't do anything stupid. Walk to your cars, try to keep your hands from shaking, and keep your eyes on the road when you go buy some.
4. Vegetarians can be great grill masters, too. It is sometimes implied or just explicitly stated that meat is the greatest and only answer to a backyard barbecue. Don't listen to people who say that. After all, meat wouldn't exist without vegetables.
5. Don't be afraid to experiment. Did you know you can grill a pizza? Did you know you can cook a cake or a pie on a grill? Did you know that eating a slice of pie that was cooked on a grill will automatically make you weep tears of joy? Someone out there put those things on a grill once. That someone deserves the medal of freedom and a statue (that also doubles as a grill).
6. Coleslaw and cornbread are the only sides you'll need. Keep it simple, remember? Coleslaw – cold and creamy – has been spicy barbecue's most important accompaniment since man started cooking with fire. And cornbread is the perfect solution to sop up the sauce left on your plate.
---