Cooking a pot of beans
(Read article summary)
Bean are as comforting as they are simple. And sometimes that's the best kind of meal you can prepare for your family.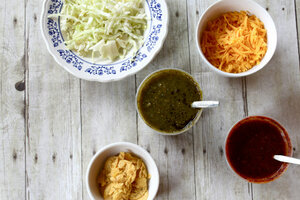 In Praise of Leftovers
Recently I sat in my spiritual director's office and cried for an hour.
I told her I'd been wanting to cry about the devastation in Oklahoma, and then the I-5 bridge in Washington collapsed. Yancey and I both cross that bridge several times a week, and we'd been on it the day before.
I won't be scared to cross bridges in the future or scared to drive. But I am thinking about the fragility and unpredictability of life. I'm thinking about the illusion of control I love to nurture and how much comfort I take in my plans.
And then I hear Jack Kornfield saying:
"The unawakened mind tends to make war against the way things are."
Things are messy, unclear, unfair. They're unpredictable and often beautiful. Things are sad, violent, and hard. They're also heartbreakingly tender and full of possibility. And the challenge for all of us (especially for my orderly self) is to accept what is. Our home has not been devastated by a tornado, but our commutes to work south of us may be increased by several hours a day for a year until the bridge gets fixed. My spiritual director said, "What if you think of the bridge collapse as the collapse of your ideas about God and yourself that aren't working for you anymore?"
I've found I haven't had bandwidth this week for much beyond daily tasks and feeling sad. I haven't felt motivated to blow through my to-do list or start anything new. Instinctively, I knew this week was a "pot of beans" week. When I dumped the pinto beans into a bowl to soak, just the sound of them falling out of the jar was comforting. I know exactly what to do with them, I know my family will be nourished for days, and I know we'll be able to devote our energies to things other than cooking for awhile.
---