Meatless Monday: Portobello and cumin spiced eggplant burgers
(Read article summary)
Mushrooms instead of bread as a 'bun' for your burger? It may sound crazy, but mushrooms work great as a gluten-free alternative, and the possibilities for fillings and topping are endless.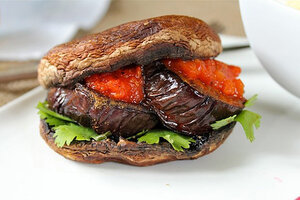 Beyond the Peel
How does a person make up for a week of mac and cheese, popcorn for dinner, and brownies? With veggies of course. Lots and lots of veggies.
A year ago I saw this idea to use portobello mushrooms as a burger bun as a gluten free way to enjoy a good ol' beef burger. So I decided to try it. I was amazed at how well it actually works. It was super juicy and surprisingly satisfying. I also recently saw a great idea in a Denis Cotter cookbook to use thick slices of eggplant as an interesting burger bun option. So I decide to mash those two ideas together. As it turns out it – it's great!
I love this whole "thinking outside the box" thing. Mushrooms as bread? Crazy right? Until you've tried it of course!
Everything goes in the oven at 450 degrees F. on one cookie sheet. Twenty minutes later the burgers are quickly assembled and dinner is ready. Serve it with your favorite salad and voilà, a healthy alternative to typical barbecue night. And if you're not an eggplant fan, no big deal. You can still use this concept with whatever filling you like.
Now I'm thinking about eggs benedict with a portobello mushroom instead of that tired old English muffin. I've also seen these bad boys of the mushroom world used as the base for a pizza. Such a fabulous idea. Really there are so many possibilities. Fried egg sandwich, tuna melt sandwich … the list goes on.
Just so we're clear, I'm talking about a grilled or cooked portobello mushroom. I don't want you trying this with a raw mushroom. That wouldn't be as tasty.
Try this idea with:
Roasted peppers and brie
Grilled zucchini, feta and olive tapenade
Your favorite burger patty: veggie, fish, beef, or lamb
Mashed avocado, cilantro, and sliced tomato
Gooey melted buffalo mozzarella, tomato, and fresh basil
---