Strawberry jello pie
(Read article summary)
Nothing says summer like a chilled pie. This strawberry jello pie is so easy you don't need a special occasion or a lot of time to make it. Cool, sweet, and jiggly, this pie is just plain fun.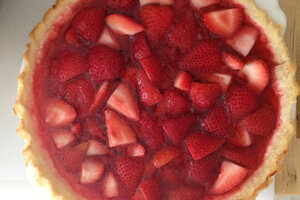 Laura Edwins/The Christian Science Monitor
I grew up in Florida, so for me a heatwave isn't so bad. That blast of sticky, humid, nearly suffocating air when you exit an air conditioned building feels like a warm familiar hug. I'd much rather sip a cool glass of sweet tea garnished with a lemon while wearing shorts, than shiver over a mug of cocoa in two pairs of socks.
Summer in Florida gets intense. It lasts from roughly April to October, with little respite. Sure, you can spend long days floating in the pool or planted on a sandbar in the ocean waves, but there's really no better way to beat the heat than with a cool, sweet treat.
Growing up, my mom and both of my grandmothers always made chilled pies. Key lime, chocolate pudding, chocolate mouse, peanut butter, lemon meringue; whatever the flavor, the recipes are usually simple, and the pie was always served on depression glass and topped with whipped cream from a can.
It doesn't get any easier than this strawberry jello pie. A big container of strawberries, a box of jello, a pie crust, and you're set. A note about that pie crust: In my family homemade pie crust is a point of pride. I've never seen my mother use a store-bought crust. That being said, I have messed up pie crust in every way possible. Too dry and crumbly? I've done it. Overworked and tough? I've done it. Too sticky and won't come off the counter? I've done that, too. Too much salt in my pie crust? Unfortunately, I've made that mistake as well.
I'm here to tell you, there is no shame in throwing away a bad pie crust and starting over! There's no shame in throwing out the second one you've ruined and starting over again. And despite what my Nana might say, there is shame in buying a store-bought pie crust and calling it a day (they really do taste pretty good). But if you must do it the hard way, I've included Nana's pie crust recipe below.
Strawberry jello pie
I've also made this pie with blueberries and blueberry Jell-o, which is good for a change.
1 small box of strawberry jello (make sure you don't buy the sugar-free kind)
1 cup sugar
1 cup water
---