White bean and olive salad with fresh herbs
(Read article summary)
White beans are a cheap, versatile ingredient for the beginners out there.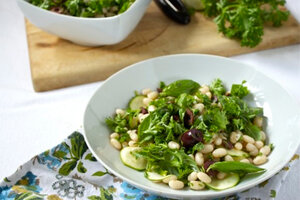 Beyond the Peel
I put on a batch of beans recently on a stormy night (sounds scary, right?). I made a triple batch so that I could freeze the extra portions. Having them on hand is a huge time saver and it doesn't take any more time to cook two cups as it does to cook one.
You can always use white beans in a jar or even canned beans, if you're just getting started with whole foods and are working your way up to making them yourself. If you're interested in learning how, here's an easy video on how to make them at home for pennies in comparison to the precooked ones.
---