The newsroom weighs in: Traditional Oreos take the cake
(Read article summary)
A newsroom wide ballot put Oreo's novelty flavors to a taste test against the original. The results? Hardly surprising.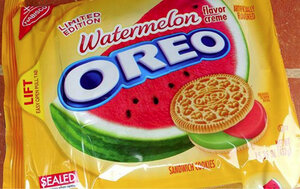 Screenshot KPRC Local 2
Elections are all the rage these days. Citizens went to the polls to determine the next Iranian president and the next Massachusetts senator, among other widely covered races. Upcoming high-profile elections include the 11-candidate fight for New York City mayor and the dead-tie in Virginia for governor.
But there's one hot-button choice that needs more press: Are novelty Oreos better than the original? We got curious following the recent hubub over Oreo's newest summer flavor: Watermelon.
The Christian Science Monitor prides itself in thoughtful, fair reporting. We apply these standards to all of our journalistic endeavors, including an Oreo taste test recently conducted in the Monitor newsroom.
We purchased three novelty flavors of Oreos – Watermelon; Rainbow Shure, Bert!; and Neapolitan. For the purposes of this article, we'll call the Rainbow Shure, Bert! flavor – yes, that's how Oreo stylizes it – Sherbet.
The independent variable (this was conducted with scientific rigor, after all) was of course the original chocolate wafer, vanilla cream flavor. Milk was provided to cleanse the palate.
As the "Meet the Press" theme song looped in the background – who doesn't get excited about journalism after listening to David Gregory's walk-up song? – Monitor staffers from college interns to managing editors came to the voting area to sample the four Oreo flavors. Ballots were distributed.
Thirty-two people filled out ballots, although three of them had to be disqualified because they voted for two flavors instead of one. The instructions typed on the ballot were clearly stated: "you only vote once #YOVO." So for the purposes of this article, 29 people voted.
What were the results? Not surprisingly, the original flavor won by a landslide, capturing 23 out of 29 votes – or 79 percent. But what came as an even greater shock was how the six other people voted. Two voted for Watermelon, two voted for Sherbet, and two voted for Neapolitan.
---