Heirloom tomato galette
(Read article summary)
Are your summer tomatoes coming in? A rustic galette serves as the perfect crust for barely roasted homegrown tomatoes with mozzarella cheese and a sprinkling of fresh herbs.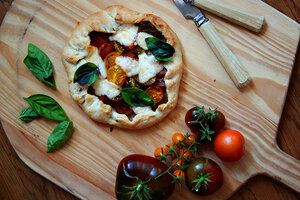 The Ravenous Couple
Summer – or tomato season as we like to call it – is in full bloom. One of our favorite rites of summer is picking fist-sized heirloom and grapelike clusters of cherry tomatoes in our garden. Growing our own tomatoes has been one of the most rewarding achievements since we started to garden in our small 4-by-8-foot raised garden bed.
Typically we plant about five varieties of heirloom tomato seedlings each year, which yields more than enough for our family and friends. If you have the space, we highly recommend growing your own tomato garden. While we're certainly no experts, here are some of the tips we found helpful for growing tomatoes:
Starting with seedlings, plant them deep into the ground, about 2/3 of the plant, and remove the lower leaves. This will help create a deep and strong root system. Leave plenty of room between seedlings. We have five plants in our 4-by-8-foot bed and even that is a little crowded.
Place layer of mulch around each plant and as it grows, prune the lower leaves so they don't touch the soil.
Cage early. We love the square cages that are stackable.
Do not use a sprayer hose to water. Set up a drip system for each tomato, either connected to your irrigation system or via a hose and faucet. This keeps the leaves dry, a key step in preventing pests and mold.
Prune it, especially for indeterminate plants. We like the plant to concentrate on making good tomatoes, not a lot of branches. Pinch off the suckers that shoot up in between the branches.
Feed occasionally with tomato toner or organic fertilizer of choice.
We've found that by just doing the above, our tomatoes are healthy and pest-free. We do inspect for green worms occasionally and just pluck them off and feed them to the birds. Otherwise, we haven't had the need to use any thing else for pests other than to cover the ripening tomato to prevent the birds from pecking at them.
---