A royal baby and 'Cake Middleton'
(Read article summary)
By George, it's a boy! The world sends congratulations to Will and Kate with edible delights.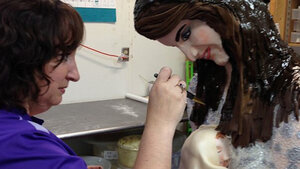 Nadine Moon/Who Made The Cake!
When the Duke and Duchess of Cambridge announced that they had named their baby boy George Alexander Louis, the world went wild. Or so it seemed. Whether it was tweets, T-shirts, or doughnuts the arrival of the next heir to the British throne was cause for celebration.
In the food world, it ran the gamut from a sculpture cake to a margherita pizza. Limited edition royal cheese? That's rolling your way, too.
'Cake Middleton'
People always say babies are sweet enough to eat, but would you really want to? Nadine Moon, of Houston, created a 6-foot-tall cake homage to the royal mother holding her boy George. Ms. Moon, a cake designer, has also made cakes for Michael Jordan's and Charles Barkley's birthdays. "Cake Middleton" is made out of butter pound cake and Rice Krispies treats. Each layer of the cake is held in place with wood and dowel rods, and the whole thing has a system of PVC pipe to keep it stable. According to Moon, the cake can serve up to 2,000.
---