5 tips for tasty vegetables and an umami-laden green bean recipe
(Read article summary)
Green beans combined with the salty sweet taste of preserved radish will have even your children asking for seconds.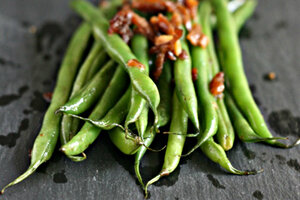 The Asian Grandmother's Cookbook
My earliest memory of eating vegetables involves my mother chasing me around the living room balancing a plateful of stir-fried spinach and rice in one hand, and desperately trying to shove dinner spoonful-by-spoonful past my uncooperative lips with the other.
I must admit I've come a long way since then. In fact, I even consider myself a flexitarian, preferring a larger portion of vegetables to meat (which, by the way, is the Asian way).
I've come to love previously abhorred greens such as ladies finger (okra), mustard cabbage, and choy sum (Chinese flowering cabbage). Even spinach, my childhood nemesis, tastes sweet on my adult tongue!
The trick, I've learned, is to select the freshest specimens you can find, and to cook the vegetables well. This means no wilty leaves, or brown, mushy spots on your bok choy. And heaven forbid you should overcook your broccoli! These tactics are even more important now that I have a child. As many a parent has come to realize, little people are the most persnickety of vegetable eaters.
I have some tips to offer any mom or spouse with a veggie-cynic on their hands, none of which involve hiding zucchini or Brussels sprouts (a technique I don't quite approve of). However, I don't disapprove of embellishing with ingredients that will make vegetables more palatable for naysayers big and small.
1. Roasting can make even the most banal of vegetables as addictive as candy (just think of the roasted kale chips craze). Roasting turns kale, cauliflower, broccoli crisp and crunchy and concentrates their sweetness through caramelization.
---