Cream cheese cookies
(Read article summary)
These cream cheese cookies make a lovely tea cookie or light dessert.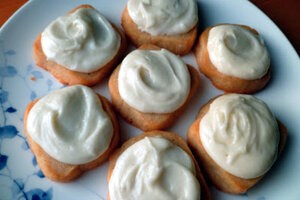 The Pastry Chef's Baking
The original recipe was called Cream Cheese Walnut Cookies and called for walnuts to be added to the batter and for the cookie dough log to be rolled in chopped walnuts before slicing and baking. But I don't like walnuts (too bitter) so I originally opted to substitute cashews instead.
While I'm not big on nuts in my cookies, I have a higher tolerance for cashews (and macadamia nuts) if I am going to add them in. In the end, however, I decided to forgo even the cashews and just went with a plain cream cheese cookie, mostly because I had leftover lemon frosting from my recent cake wreck, Lemon Drop Cake.
Turns out that was the right decision to make. I really liked these cookies for their simplicity and straightforward goodness. Be sure to bake them long enough for the bottoms and sides to get golden and the middles to "dry out" on top but not get more than lightly golden brown. That will ensure they've baked long enough for a good "snap" to the texture.
The cream cheese taste was very subtle but contributed to the nice crisp texture of the cookie. It paired well with the lemon frosting but I also think it would've been good unfrosted, too. This is a good tea cookie for an afternoon tea or served as a light dessert after lunch. Er, "light" assuming you only have one, that is.
Cream cheese cookies
Adapted from Martha Stewart's Cookies
---