Giveaway: Calling all novice canners
(Read article summary)
Whipped, The Blog is giving away tools for making your own fresh preserves. Read on for details about how to join in the online fun.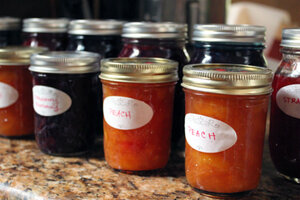 Whipped, The Blog
For years, I have had "preserving" on my bucket list. Last year, I made some refrigerator pickles but I never made the leap to full canning. When I was contacted by Jarden Home Brands about Can It Forward day, it was just the push I needed to make it happen and cross this longstanding "to do" off my list.
A few weeks ago, I received a number of packages containing everything I needed to try my hand at jam or jelly making. Ball makes an appliance called the FRESHTECH Automatic Jam & Jelly Maker that basically does the work for you. Perhaps the purists reading this post are rolling their eyes. I know that there isn't much to making jam on the stovetop but due to my busy schedule, I'm all for handy shortcuts, especially if they don't compromise quality.
Last weekend, our family took a trip to the farmer's market to scout out some ingredients for our first jam. We settled on some beautiful raspberries and blackberries. The girls helped wash them and mash them. Of course, a number of taste tests ensured quality control.
A few tablespoons of pectin and mashed fruit are spread into the jam and jelly maker. You push two buttons. It is the most dummy proof appliance I have ever met. Choose "Jam" or "Jelly" and push start. The stirring mechanism begins to stir as the appliance heats up.
After a few minutes, the machine makes three beeps. That means it is time to add the sugar. About 17 minutes after that, the machine beeps again and it is time to jar your jam. During the cooking process, I prepared my jars by sterilizing them in hot water. Though the process takes meticulous care, it was quite simple. The jam went out of the appliance, into the jars, under boiling water and then into my pantry (excluding the samples that made it onto our toast.)
---