Pistachio apricot cake with mascarpone filling and whipped cream frosting
(Read article summary)
For your next celebration consider this pistachio-flavored cake layered with mascarpone filling and fresh apricots, and topped with whipped cream frosting.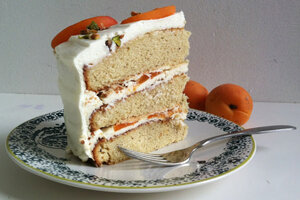 Eat. Run. Read.
Want to hear some crazy news? Eat Run Read celebrated its third birthday this week!!!
Three years, 690 posts, 1,808 comments, and 311,620 pageviews. I started this little project the summer after I graduated college and who knows how long it will continue? (If my blog were a person it would be a toddler by now!) At first my family wondered if I'd run out of things to blog about. I wondered if eventually I would lose interest. But I'm happy to report that has yet to happen – 1,095 days later and Eat Run Read is still going strong!
Major lesson learned? Well, I already knew that I liked baking and running and reading, but turns out I like to write. A lot. Before starting this blog, my writing experience was 100 percent academic. But here I am, three years after my first post I still look forward to writing every day. So thank you for reading. Seriously, anyone who knows me knows that I get excited when people read and like what I write. And thank you for commenting – thank you for your oohs and awws over my prettiest baking creations, thank you for your love and support through my running shenanigans, and thank you for sharing your own tips and feedback and fun links on my posts!
It is fitting that I celebrate this great occasion with a cake of the epic variety. I made this pistachio apricot cake with mascarpone filling and whipped cream frosting for our housewarming party this weekend and not to toot my own horn, but toot! it was pretty freaking delicious.
The cake has five eggs, giving it just the right balance of lightness but also satisfyingly cakey, and was very pistachio tasting. The mascarpone filling is swoonable – think of it as a cross between the flavor of whipped cream and the texture of cream cheese. And the final (tricky but totally worth it) component is the stabilized whipped cream frosting around the outside. The gelatin and cream of tartar stabilizes the cream, so it behaves like a super-light frosting and won't melt. And it tastes awesome. It's kind of like I died and went to heaven – in cake form.
---