Watermelon tomato salad
(Read article summary)
The subtle acidity of the tomatoes plays nicely against the sweetness of the watermelon, both bursting with bold flavorful juice with every bit. The saltiness of the feta cheese, crisp radishes, and cool cucumbers balance the sweetness.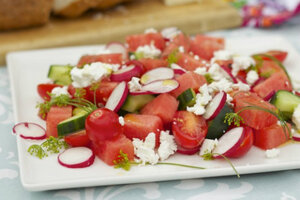 Beyond the Peel
Oh, sweet watermelon. Juice running down my chin, too much loving to all be contained in one bite and somehow the whole face gets involved.
I think every kid must have a memory somewhere of leaning over a balcony looking over a lawn spitting their watermelon seeds down below. Juice dripping down each arm all the way to the elbows, then down the front of what used to be a clean T-shirt, and spread from ear to ear (and maybe a little in the hair) – or maybe that's just me. I'm 35 now and still haven't mastered the art of eating watermelon without getting it all over the place.
Gosh, I had missed watermelon, living here in this remote fire tower. Almost as much as I missed regular hot showers and regular garbage pick up.
Procuring one took until now and involved a 9-hour drive. Not all for a watermelon of course, we can buy one in town and that's only a round trip of 3 hours. But the bonus was going home with one. Or should I say a 1/4 of one, perfect for our little fridge! What a treat. My sister cut off a chunk of hers for us to take home. Exactly the perfect size we could handle.
Watermelon is one of those things that once you cut it open, it needs to be eaten fairly promptly or refrigerated. With our current refrigerator situation, a watermelon the size of a beach ball was out of the question. It would use up far too much valuable real estate. It's really about calories. What little space we have is taken up with more calorie dense foods such as cheese, eggs and of course lots of veggies. If fruit can't survive on the counter, it doesn't get purchased. I know there are those ever so precious ones the size of a cantaloupe that would be perfect, but somehow by doing that some of the pleasure is lost for me. There's just something about buying fruit that takes two arms to carry out of the store. That's half the fun!
The other part of the fun, of course, is eating it!
Whether you enjoy watermelon for desert or for a main, watermelon is one of those fruits that truly screams summer. Like ice cream cones and Popsicles or corn on the cob done on the grill.
---