Summer market tabbouleh
(Read article summary)
To pep up your tabbouleh, first soak the bulgar wheat in lemon juice. Then add a variety of fresh, summer market vegetables and seasoning for flavor-packed salad.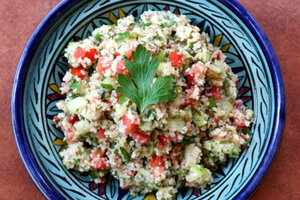 The Runaway Spoon
Tabbouleh is the perfect summer farmers market dish – fresh herbs and vegetables tossed with fine grains for a fresh, cool salad. But has always been underwhelming to me. Too bland, too dry, I don't know. I've always wanted to love it, but never had.
Until a conversation at a party about family recipes. A lovely woman from Mississippi was telling me about some of her family's traditional Lebanese dishes, filtered through generations in the Missisippi Delta. She mentioned in passing that her family always soak the bulgur in lemon juice. That idea stuck with me as a way to pep up the dish. And it does. This version of tabbouleh is bright with lemon juice, really tart and unique. I love lots of fresh herbs, but have added a few spices for a little flair. So now I like tabbouleh – my way. I make this for parties and cook outs, but also just to keep a bowl in the fridge for quick lunches and snacks.
But here's the thing about tabbouleh. This is my blueprint, lifted from someone else's recipe. You can do what you want. More tomatoes or cucumbers, no garlic, a little chopped hot pepper. What you find at your market or in the garden. I do offer some hints. I like to give my knife and board a workout and finely chop all the ingredients, so each bite has a good mix of flavors, rather than a big chunk of tomato or cucumber or a big parsley leaf. With all the lemony tang, I've never really thought this needed salt, but do as you will.
Summer Market Tabbouleh
Serves 4 as a side dish, easily doubles
1/2 cup fine bulgur wheat
---