Tostadas with cocoa spiced pinto beans and peach mint salsa
(Read article summary)
Tostadas are the perfect platform for just about any tasty combination. Beans flavored with unsweetened cocoa and topped with peach mint salsa make a comforting and easy lunch.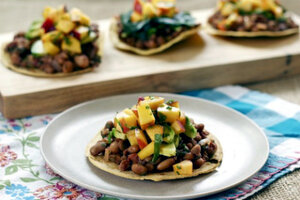 Beyond the Peel
Today was a day to mix comfort, warming foods with the fresh and bright flavors of summer. Sure I could have made pie.
Shoot. I should have made pie!
Oh well, there's always tomorrow.
No matter, this is better than pie. Chocolate for lunch? Oh yeah baby!
Enter tostadas – which I love.
Essentially, tostadas are the perfect platform for just about any tasty topping. If you make your own tostadas, you can avoid the deep frying oil, too. Bonus. I bake tortillas in the oven for 10 minutes or so and they are perfectly crisp tostadas and there's no nasty rancid vegetable oil to deal with.
These chocolate beans are warm, spicy, and almost creamy. There's a kind of earthiness to them. Top the whole thing off with the bright, juicy flavors of peach and refreshing mint. I can guarantee you won't be thinking about pie.
I often have a stash of frozen beans in baggies in the freezer for a quick grab and go. Next time you're making beans from scratch, I recommend making extras and freezing them in 1-1/2 cup portions. This is way cheaper than buying canned beans and tastier too. However canned beans are always an option. Using cooked beans makes this lunch or dinner come together from start to finish in 15 minutes.
But really, let's be honest. It's about the chocolate and peaches. It's not really about a meal in 15 minutes, it just happens to be the bonus.
Cocoa Spiced Bean Tostadas with Peach Salsa
4- x 6-inch corn tortillas
Cocoa Pinto Beans (recipe below)
Peach Mint Salsa (recipe below)
1 avocado, steamed chard, or 2 cups grated zucchini
1. Preheat oven to 375 degrees F.
---