Strawberry sweetheart streusel muffins
(Read article summary)
Moist and fluffy with a nice crunch from the streusel topping, these muffins are first-rate.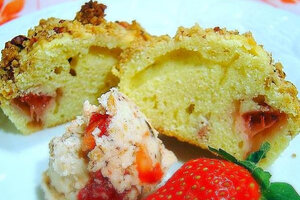 Sue Lau/A Palatable Pastime
It's been the summer of muffins here at the Monitor! A few weeks ago we announced the winner of our muffin mix-off contest. A delicious apple cinnamon muffin took home first prize, but these strawberry sweetheart streusel muffins submitted by food blogger Sue Lau from Washington Township, Ohio, were such a close second, we thought we should share them.
Baked goods with strawberries can sometimes turn out too wet. But in these muffins the strawberries held up well and the muffins were moist, but not mushy in the least. The streusel-nut topping was a great addition, adding a nice crunch to every bite. Ms. Lau's recipe for strawberry butter puts these muffins in the "special weekend breakfast" category. But without the butter and baked the night before, these could easily work as an early morning, grab-and-go breakfast.
With summer winding down, strawberries will only be at markets for a few more weeks. So try these muffins out soon!
Muffins
1-3/4 cups all-purpose flour
2/3 cup brown sugar
2 teaspoons baking powder
1/2 cup buttermilk
1/2 cup unsalted butter, melted
---