Chocolate pecan caramel shortbread
(Read article summary)
Life is better with chocolate, and chocolate is better with caramel. This turtle shortbread is an over-the-top dessert worth some extra effort. Share it with others and it will go fast!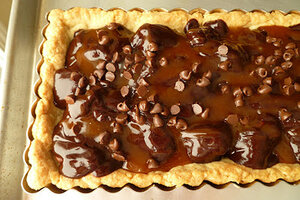 The Pastry Chef's Baking
I found this recipe on Godiva.com years and years ago. It's no longer on their site as they refresh and rotate recipes around. I'm glad I snagged this when I did. I suppose you could call this a turtle shortbread since it has all the key turtle elements: nuts, caramel, and chocolate.
Actually, I've been on a turtle kick lately (the confection, not the sea creature) as you'll see with this shortbread and (upcoming) turtle cookies and turtle cake. Coincidence, I assure you, or simply my love of caramel and chocolate together.
Now I did change the recipe to make it more turtle confection-like because the original recipe called for baking this as a round shortbread, filling it with the pecan filling, baking it, then covering with ganache, and piping white chocolate decoratively on top. I even remember the original picture of this from long ago where it looked very pretty and professional.
I didn't choose to go that route. Instead, I put the shortbread dough into a rectangular tart instead of a round one for easier portioning out to give away and par-baked the shortbread layer so it would brown and bake first. I was afraid that if I filled the unbaked shell with the caramelized pecan filling, the time the shell would need to bake would be longer than I wanted to bake the filling. I wanted a soft caramel filling, not a hardened caramelized one. That turned out to be a good call as I got some nice browning on the shortbread by par-baking and only needed another 15 minutes to bake it with the filling before the pecans achieved the toastiness I wanted.
I left the original recipe below for anyone who does want to make this as a round confection and go the pretty route with the white chocolate piping on top. Me, I'm of the belief you can't go wrong with caramel paired with chocolate so after I spread the ganache over the cooled pecan shortbread tart, I also dolloped salted caramel (from Trader Joe's but you can also make your own if you're inclined) on top, then sprinkled it with mini chocolate chips.
---