Soft chocolate sugar cookies
(Read article summary)
Go with a high quality dark cocoa powder for this recipe. The darker the cocoa, the more chocolate richness you'll get from your cookies.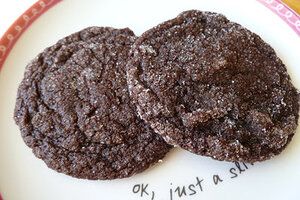 The Pastry Chef's Baking
Of all the Peanuts characters invented by Charles Schultz, the one I identify with most is Linus. Not Charlie Brown, not Snoopy, not Lucy – although I've been told I'm more like Lucy. C'mon, are you kidding, Lucy's a bossy know-it-all who .... oh. Wait. Never mind.
Anyway, Linus. The reason I identify with Linus is he has a security blanket which is literally his blanket. I would argue that most people have their own version of Linus's blanket: something that gives them peace of mind and is kept close at hand. My security blanket is having cookie dough and brownies stocked in my freezer. Does that sound weird?
First, you have to understand whenever I get together with friends or family, I always, always bring goodie bags of baked goods. Whether I'm meeting one person or 20, I bring goodie bags for each one. Second, I don't always have a lot of time to bake, given a full-time job and life outside of my kitchen. If I have a last-minute get together, I need to be able to put a goodie bag together quickly.
If I have a big social gathering coming up and I have to put together multiple goodie bags, I plan ahead so I'm not making six or seven different things on the day of – I never have that kind of time. I don't always feel like baking either (rare but it happens) even if I do have time, so it's just best to be prepared. So I like to make up batches of cookie dough ahead of time, ready to be baked off at the last minute. Or I bake brownies or bar cookies, cut them into individual serving sizes, wrap them in plastic wrap and place in freezer bags to store in my freezer until I need them. If I go too long without restocking my freezer with cookie dough or brownies, I get nervous.
---