University of Wisconsin macaroni and cheese
(Read article summary)
Nothing says Wisconsin like a four-cheese macaroni and cheese baked into a deep dish. Do you have a favorite football-watching recipe? Enter our tailgate challenge and send it to food@csps.com.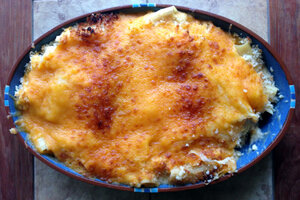 Kitchen Report
I was born in a college football town (Go Big Blue!) and even though we moved away while I was a preschooler, our family has been branded with blue and gold forever. We still root for Michigan.
When I was checking out the recipes in "Taste of the Town," by ESPN college football analyst Todd Blackledge I was hoping to find a U of M recipe to test out. But the only Michigan reference in the cookbook was to Michigan State. No go.
So I went with plan B: The University of Wisconsin. We moved to Madison from Ann Arbor and even though we lived in Wisconsin longer than Michigan for some reason we never switched our allegiance. But I will admit two things: (1) "On Wisconsin" is a really catchy tune and (2) I do have a special place in my heart for the Badgers because, well, I met Bucky Badger.
That's right. Bucky Badger once strolled into my second grade classroom, waving like it was an everyday routine. Most of us were so overcome we froze in our spots. And then – you won't believe this – he took off his enormous head and there was a man inside. Bucky was a real person! How could this be! And then the clincher: Bucky Badger was the son of our teacher! Our 7-year-old minds were blown for the rest of the day. And obviously I still think about this celebrity encounter.
Sure enough, "Taste of the Town" includes a recipe for macaroni and cheese from Avenue Bar in Madison, which apparently is a popular hangout among the college kids and football players.
The Avenue Bar recipe is as over the top as anything you might expect from The Cheese State. It has 7 cups of cheese in a serving for four people. Let that sink in a bit. I'm assuming they mean four really hungry football players because after one scoop of this decadent, cheesy mustard-flavored pasta dish topped with buttery panko bread crumbs you'll need to lie down for an hour, which makes it a perfect football-watching meal when you've gathered a crowd in your living room to root on your favorite team.
I may wear blue and gold on game days, but Bucky, my heart belongs to you.
---