Florida State fish tostadas and the tailgating challenge
(Read article summary)
These Florida-state inspired fish tostadas are no-fuss, perfect for a weeknight meal. Pair them with black beans and your favorite salsa.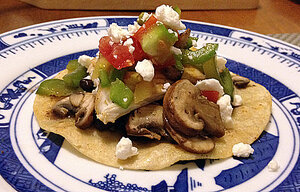 Laura Edwins/The Christian Science Monitor
I grew up in Southwest Florida, Gator country. There's nary a pickup truck without a University of Florida license plate or bumper sticker. Most kids from my high school spend their junior year focused on getting into UF. The Florida-Florida State game is an event second only to our town's annual parade.
But in my family, Gator hatred runs deep. My parents both grew up in Miami, and are die-hard Canes fans, so in their eyes orange and blue is the most insidious color combination imaginable. I was the loyalist, and attended University of Miami. My sister, the rebel, attended University of Florida. With minimal teeth-grinding my parents made the six-hour drive to Gainesville and moved her into her Swamp-adjacent dorm. They graciously accepted token "Gator Dad" and "Gator Mom" coffee mugs with barely a grimace. Latent football animosity turned on our common rival, Florida State.
Through this earth-shattering changing of loyalties did my parents take into consideration the fact that neither my sister nor I ever gave two thoughts to football? The realization that two rabid football fans raised two kids with athletic aversion seems beyond them. Even now that we've both graduated they gleefully report football scores and play highlights for all three schools, as well as the Miami Dolphins, on a weekly basis during football season.
So, it was with only a little guilt that I cooked and ate Florida State-inspired fish tostadas from "Taste of the Town," by ESPN college football analyst Todd Blackledge. They may have been featured under the FSU section but the ingredients, fresh fish, black beans, and grilled veggies, could really celebrate any school from the sunshine state. Like most of the recipes in Blackledge's book, there were no complicated or fussy instructions and the meal came together quickly. I added a few special toppings – crumbled feta cheese and mango salsa – for a salty kick and a nod to Miami.
---